Of course we do not get all the reviews but you can find below some critics in English, French, German, Spanish and Italian: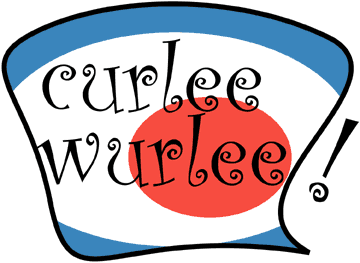 Reviews 2005
Reviews 2004
Reviews 2003
Reviews 2002
Reviews 2001
Reviews 2000
Reviews 1999


* * * * * * *
CURLEE WURLEE!
She's a Pest (Crazy Love Records - LP)
Over to Germany for this 2-boys-2-girls thang. They were featured on "The Cretins Wanna Dance" compilation with two splendid tracks, so when they hit the Pit's stage with The Riplets, time was right to get my hands on their album as well. And again it's a full-on winner! Curlee Wurlee mixes the best of 60's garage beat with some strongly addictive pop melodies and gives a fine finishing touch with their funny mix of French and English, appropriately called "Frenglish". Let The Riplets bop in their garagerawk way through the "U.G.L.Y. Girl" album by the Boonaraaas and back it up with a steamin' organ and you can figure out what you're in for. A very fine record indeed, with enough balls to get you real rawking outta yer head!

Source 2002: High Heels Slut #5 (c/o Retard Wim - Wagenbrugstraat 91 - 8560 Moorsele - Belgium)

* * * * * * *
CURLEE WURLEE: Le phénomène vert (EP, Wiped Out Records)
Groupe franco-allemand, Curlee Wurlee est la nouvelle sensation pop-punk européenne. Ce nouvel EP vient prouver que l'esprit des 60's peut perdurer dans un environnement punk, quel les deux ne sont pas incompatibles, au contraire. Les rythmiques sont au taquet, les guitares délicieusement saturées, l'orgue sale et rugueux, et la voix de Cécile sensuellement perverse. Rock'n'Roll at its best. Pas sans rappeler les Lolitas, en plus teigneux cependant, ce qui ne gâte rien.

Source 2003: 442 RUE

* * * * * * *
FLIGHT 13
CURLEE WURLEE, le phénomène vert 7" 3,35 EUR Die neue Single mit 4 Songs im bekannten Girlee-Action-Pop meets catchy 60s-Beat-Punk, coole Scheisse mit Orgel. Der Titeltrack in französisch, dazu "you gotta run", "c´est extra" & "it´s a blast" (instrumental). Helen Love trifft die Ramones! Klasse Artwork von Martin Jablonka * Wiped Out Records

CURLEE WURLEE, she´s a pest LP 10,90 EUR CD 13,90 EUR Lecker 60s-Beat-Girl-Garagen-Punkrock-Sound mit Orgel. Fast alle Stücke um die zwei Minuten, kurze Pop-Songs mit Charme. Hat auch was von Helen Love, nicht ganz so Bubblegum-Sound, auf jeden Fall großartig * Crazy Love.

Source 2002: FLIGHT13

* * * * * * *
FRENGLISHER POWER POP PUNK STARTET DURCH!
"Le Père Noël aux Amphés" (Thunderbaby Records / X-Mas Split EP)
Deftiger Power Pop Punk mit einem Hauch der beliebten Sounds der heißen sechziger Jahre starten nun auch endlich hierzulande durch. In Form von Curlee Wurlee!
Die quirlige, vierköpfige Band aus Düsseldorf legt nach dem Erfolgs-Album "She's a pest" und der EP "Le Phénomène Vert" (The green Phenomenon) einen würdigen Nachfolger zur Weihnachtszeit hin. "Le Père Noël aux Amphés" heisst das gute Stück und erscheint Anfang November auf einer Weihnachtssingle nebst Battledykes, Boonaraaas und Lullabelles beim Girly Label Thunderbaby Records.
Die Stimme von Frontfrau Cécile Musy und die schwingenden Orgelsounds bohren sich sofort ins Ohr und lassen weder Finger noch Füße zur Ruhe kommen.
Genau das Richtige für geschädigte "Langeweile-Ohren" und ein MUSS für alle, die auf 60's Beat, Surf und Poppunk stehen!

Source 2002: Oliver de Vries @ NETZANTENNE 30/10/02

* * * * * * *

V/A - Splitbaby Volume 2 (Grrrl-X-Mas) EP (RED VINYL) 7" + P/S £3.75 (BRILLIANT NEW RELEASE ON THE 'THUNDERBABY' LABEL THAT FEATURES 4 OF THE BESTEST FEMALE FRONTED GARAGE / PUNK COMBOS ALL GIVING US SOME FESTIVE TUNES. FEATURES 'THE BATTLEDYKES' 'THE LULABELLES' 'CURLEE WURLEE' & 'THE BOONARAAAS!' - COMES WITH A FREE 'CHRISTMAS SANTA HAT'!!!)

Source 2002: DETOUR RECORDS

* * * * * * *
THE NETHERLANDS ROCK!
Grunnen Rocks Radio #39
PLAYLIST
15) Curlee Wurlee: Le Phénomène Vert (Wiped Out Records)
I don't know what it is with this 7" but it doesn't get out of my system, I suppose I really like this
Grunnen Rocks Radio #40
PLAYLIST
5) Curlee Wurlee: It's A Blast !(Wiped Out Records)
Germans doing cool sixties on a French label
Grunnen Rocks Radio #41 PLAYLIST
19) Curlee Wurlee: C'est Extra (Wiped Out Records)
So now I've played all the tracks on the 7", I need more ...

Source 2002: GRUNNEN ROCKS November 2002

* * * * * * *
DETOUR RECORDS
CURLEE WURLEE
Le Phénomène Vert EP 7" + P/S £3 (NEW RELEASE ON THE FRENCH 'WIPED OUT' LABEL - 4 TRACKS OF TOP NOTCH GIRLEE ACTION, POWER-POP MEETS 60s PUNK THAT IS OOZING SEX APPPEAL)

Source 2002: DETOUR RECORDS

* * * * * * *
VICIOUS CIRCLE
CURLEE WURLEE
«Phénomène Vert» - 45 tours : 5 euros
Wiped Out Rds. Garage sixties pop punk, un peu à la Headcoatees. Efficace.

Source 2002: VICIOUS CIRCLE December 2002

* * * * * * *
LE PHÉNOMÈNE VERT
Wiped Out Records
Curlee Wurlee

Tras la edición de un LP; un 10"; 2 EP´s y un buen montón de temas en distintos recopilatorios el cuarteto alemán Curlee Wurlee acaba de autoeditarse este jugoso EP que será licenciado en distintos países por diversos sellos discográficos. En España será Butterfly Records, Soundflat en Alemaña, el veterano Detour en UK y en Francia (bajo distribución de Larsen Records) Wiped Out Records, edición que tengo entre las manos. "Le Phénomène Vert" es una colección de cuatro energéticos y vitalistas nuevos temas de PowerPopPunk Bubblegum con mucha melodía, speedicos teclados y dulzona voz a cargo de Pestoonette Cécile que nos pasea por la cabeza los mejores momentos de Helen Love. "Le Phénomène Vert", "You Gotta Run", "C´est Extra" y "It´s A Blast" levantarán hasta los muertos.

Source 2002: PEPE I WANNA 04/10/02

* * * * * * *
Curly Wurlee & The Riplets, 09/03/02
The Pit's Another full house and a real hit was the Curlee Wurlee - Riplets double bill. (...) Next up Curlee Wurlee a band from Germany's rock city #1 Solingen fronted by a 'Blondes are more Fun' female singer-organist. They played one of the best gigs I saw lately. The first fifteen minutes were pretty chaotic during tune problems with the organ who was producing sounds himself. But once on full-on heat Curlee Wurlee played the roof down. Not the cheesy kind of poppy crap, but the good up tempo shit with a links to 60ties garage beat and 70ties powerpoppunk. All done very well and with much respect for its original heritage. A real great and steamy show, wet walls, sweaty and smelly folks and slippery floors.

Source 2002: THE PIT'S

* * * * * * *
CURLEE WURLEE! Le Phénomène Vert (7")
Brand new 4 songs ep of the ultrasexy 60's Beat Pop Punk sensation!!! Ultra-cool cover art-work by Martin Jablonka. Pump up the volume and dance!!! Limited edition 500 copies only so better buy now. More exciting Curlee Wurlee recordings very soon on our own Butterfly label.

Source 2002: BUTTERFLY RECORDS MAILORDER

* * * * * * *
INCOGNITO
Charmanter Bubblegum Girl Punk mit einer gehörigen Portion französischem 60s Punk aufbereitet und somit das musikalische Bindeglied zwischen den BOBBYTEENS und CECILIA. 2 Songs in Französisch und 2 in Englisch. Dazu sehr schönes Artwork von MARTIN JABLONKA. (LARSEN / WIPED OUT)

Source 2002: INCOGNITO RECORDS

* * * * * * *
CANADA'S CALLING
"Le Phénomène Vert"
Curlee Wurlee: Le Phénomène Vert / You Gotta Run / C'est Extra / It's A Blast (Wiped Out 7") Good kinda old, kinda new, garagey vibe with organ and a deep, chunky guitar sound. Gotta be fun too with a name like Curlee Wurlee! Check 'em out on the web at: http://www.curleewurlee.de

Source 2002: Colin @ MOHAIR SWEETS

* * * * * * *
LES SEXAREENOS and CURLEE WURLEE!
September
(...) Due to the late arrival of Solingen's Curlee Wurlee!, Les Sexareenos had played first and thus had set the Pit's in flames as to see some sort notice Curlee Wurlee, who had themselves proposed to be willing to play with Les Sexareenos. Surfing on the present vibes and the omnipresent part-feel Curlee Wurlee raced through a sort, but solid punkrock'n'rolla set. A set with, judging from the smiling and sweating faces I saw coming out of the Pit's was much appreciated. It was only Monday and I went home completely full of joy and excitement.

Source 2002: THE PIT'S

* * * * * * *
CURLEE WURLEE!
Le Phénomène Vert (7"/4,20E)
Their 1st recordings with new line-up! Now on drums FCB fan number one Armin (HEEBIE JEEBIES)... and smart Michael on buzzsaw guitar! So now two girls & two boys shake out a "better-than-ever" killer 6ts garage aGoGo Beat!!!

Source 2002: SOUNDFLAT MAILORDER

* * * * * * *
CURLEE WURLEE! Le Phénomène Vert (7")
Mal wieder was Neues von CURLEE WURLEE!: Auf dem französischen Label Wiped Out Records ist die 4-Song-EP "Le Phénomène vert" erschienen, mit einem großartigen Comic-Cover, das die Band auf der Flucht vor einem UFO zeigt... Passend zum Label hat Cécile mal wieder zwei Songs in ihrer Muttersprache gesungen, und der Rest ist wie gehabt: garagiger 60's-Pop-Punk mit fiepsiger Orgel - gefällt rundum, da gibt's rein gar nichts auszusetzen.
Joachim Hiller (Note 8)

Source 2002: OX! #48

* * * * * * *
CURLEE WURLEE: 60´s BEAT GARAGE PUNK POP Mo. 27.05.02
Einlass: 21 Uhr Beginn: 21.30 Uhr AK: EUR 7.50
100% SEXY FRENGLISH GIRLEE ACTION POP`N´ROLL !!! Die Düsseldorfer CURLEE WURLEE bestehen aus ex-Rockstars von The Boonaraaas, Demolition Girl, The Cheeks und derzeitigen Mitgliedern von Thee Heebie Jeebies. Wem diese Szene Bands was sagen, und wer sich durch 60´s Beat and Garage, 77 Mod revival, 79 Power Pop und Girly Punk Pop angesprochen fühlt, sollte sich dieses feine Gastspiel von CURLEE WURLEE im CAVE auf keinen Fall entgehen lassen. Mit ihrem Crazy Hammond Trash Sound haben sich CURLEE WURLEE neben Deutschland, Belgien und Holland auch in Frankreich eine angenehme Beliebtheit erspielt, was wohl nicht zuletzt der französischen Sängerin Cécile Pestoonette zu verdanken ist, die neben Englisch natürlich auch viele Songs in ihrer Muttersprache präsentiert. Und es wäre doch gelacht, wenn CURLEE WURLEE an diesem Abend nicht den ein oder anderen Freund auch in Frankfurt dazu gewinnen würden. Und ebenso begeistern dürften die faszinierenden LOW 500 mit ihrem charismatischen Sänger und ihrer psychedelisch heftig sphärischen Mischung. Mehr Infos hier...: CURLEE WURLEE: www.curleewurlee.de

Source 2002: THE CAVE

* * * * * * *
THE PIT'S
New Year's Review

(...) Yet another certitude is the German city of Solingen, not only because of their solid steel knives, forks and spoons; but more particularly for their fine and incredibly huge amount of r'n'roll and punkrock units. The list is endless and still new, inbred bands pop up at the scene in 'Hype City'. A recent hot bunch are Curlee Wurlee!, who recently changed the 'Y' in their names for a 'double E'. Their demo cdr of "She's A Pest", the since then released vinyl outcome on Crazy Love Records, which hit the Pits mailbox and got them a feature in the 2002-schedule. Curlee Wurlee dwells the 60's Beat waves and adds some power-pop an extra mod emphasis on top. But what actually does the trick is the seductive poppy, but full-on action-set element of the girlee 'Frenglish' vocal stylings which ranks Curlee Wurlee ten times above the wannabe current Frenchie twisters in Paris. Take some Headcoatees, add some 5-6-7-8's, mix with some No-Talents and flavour with The Boonarraaas and you probably be glad you discovered the fuzzy, popped, 60s garagebeat of Curlee Wurlee. Wanna taste some of this yet unrevealed Solingen secret watch out the relent-less Pit's-schedule and for once be on time dudes! (...)

Source 2002: THE PIT'S

* * * * * * *
Curlee Wurlee!:
"Le phénomène vert"(7", Wiped Out Rcds)
Dos muchachitas, ex miembros de las alemanas Boonaaraas y Demolition Girls, dos muchachitos, a su serVICIO, forman este cuarteto de revival 60's y power pop punk de los 70. Una mezcla refrescante sin ñoñería que bien podría estar en el sello de Tina Luchessi, Lipstick Records, pero que al ser de este continente y no del otro, pues me ha llegado desde un sello francés... Utilizan con dulzura el Frenchglish en las voces, el órgano, guitarra, bajo y batería. Cuatro temas divertidos, en la linea de los No-Talents, 5.6.7.8's y otras damiselas encantadoras. Una es instrumental: aunque acabe con esos chillidos tan sensuales... Estuvieron por barcelona en Marzo ¿Alguien las vió? Por si acaso apuntad en vuestra agenda que el sello catalán butterfly records, especializado en mod, y con un catálogo estupendo de distri (butterfly-records.com) va a sacarles un nuevo EP, y quién sabe si les volverá a traer por nuestras tierras. Muy grata adquisición.

Source 2002: P.B. @ SUPERPUNK

* * * * * * *
ROCK AND ROLL DANCE PARTY
Radio Playlist:
(...)
Woggles: Elvis Cadillac (Zontar Sessions, Estrus)
Curlee Wurlee: C'est Extra (7", Wiped Out)
Yum Yums: Prince Of Dorkness (Blame It On The Boogie, Screaming Apple)
(...)

Source 2002: P.B. @ WUSB

* * * * * * *
CURLEE WURLEE!
She's a Pest (Crazy Love Records)
Curlee Wurlee are from Germany, but they are strongly influenced by 60s french girl pop. Their music is power pop mod mixed with garage punk with sexy female vocal and nice keyboard. Curlee Wurlee are not pure retro band, they have slight touch of indie rock in style of Helen Love. "She's A Pest" is great and very melodic album with 17 pop killers of which few are great groovy surf instros. All songs are almost 2 minutes long and that's the perfect timing. Cecile Musy plays organ and sings (she was with Boonaaraaas on two of their first 7"s). It's really difficult to pick out the favorites, but still here's my choice: "Echo Park(a)" - the longest song on this album (2.37), nice groovy 60s instro, "Do The Monkey" which starts with typical The Who guitar, but turns into furious punky power pop, "Dustbin Life" - nice up-tempo fuzz garage punk with nice new wave kinda vocal - really great combination, "Cool Na Koi" sounds like japanese girl fuzz pop and "Run" - The Gestures "Run Run Run" cover, but faster and more power pop than original and it sounds really great. Anyway "She's A Pest" is a perfect pop album for warm summer days, but also cold and rainy winter to make it sunny. It's great that there are so many songs, so you can enjoy it for long time.

Source 2002: NO BRAINS ZINE

* * * * * * *
CURLEE WURLEE - She's a Pest
Klasse Platte dieser "100% sexy Frenglish Pop'n'Roll Band". Die hatten mir ja Live bei dieser Swindlebra Sampler Release Party gar nicht gut gefallen, das hatte aber wie man hörte damals andere Gründe. Jedenfalls gibt's hier die Debüt CD / LP auf Crazy Love Records, das mir ja eher von Rockabilly Zeugs bekannt war. Ein paar der Songs sind mir auch schon früher äußerst angenehm aufgefallen, der Opener "Agathe" war glaube ich mal auf einem Ox-Sampler, "Hankee Pankee" gab's mal auf der 7" der grandiosen französischen LARSEN Fanzines, ist aber alles neu eingespielt worden meine ich (?) Die Platte ist genau richtig "zum an die Freundin schenken": süßer 60ties angehauchter Pop mit genau der richtigen Menge an Garage / Beat-Mischung und Orgel, mal französisch, mal englisch gesungen. Das schöne Cover (von Sonic Dolls Präsidenten gemacht...) rundet das Dingens noch ab. Anspielttipps: "Pestoonette", "Je suis une calamité" und das cooole Instrumental "Echo Park(a)".
Source 2002: Elmar @ CHOKE FANZINE
* * * * * * *
GRRRL-X-MAS
Thunderbaby Split Records / Nov. 2002
Take your original 60s or 80s record player (other years are unstylish..) under the punkrock-christmas-tree and play this 4-HOLY-HITS-GIRL-PLATTER! and put the volume up!!! Merry Girl-RocknRoll everybody....w/ THE BATTLEDYKES play a punkrock-version of kissin Santa Claus; THE LULABELLES perform Last Christmas (Wham!(!)) poppunk-style as we love it; CURLEE WURLEE! play their own ear-crawlin60s-pop-song Le Père Noël aux Amphés (download around 3 MB) and THE BOONARAAAS choose for their 60s-garage-punk-song: Alien for Christmas first lim. edition of 500 pcs on x-mas-red wax and incl. very little and very cute red/white plushy Santa Claus hat that blinks...(battery-cell incl.)

Source 2002: Lutz Räuber @ SOUNDFLAT MAILORDER

Reviews 2003
Reviews 2002
Reviews 2001
Reviews 2000
Reviews 1999


You're at www.curleewurlee.com