French Tour - April 2004
April 3rd - April 12th
THIS PAGE IS CURRENTLY UNDER CONSTRUCTION
We do not have any pictures for the moment, since we shot none - as far as we remember... but we were filmed every night. So may be there'll be more available here next time you come back.
And may be some exciting stories.
So long, here a two flyers: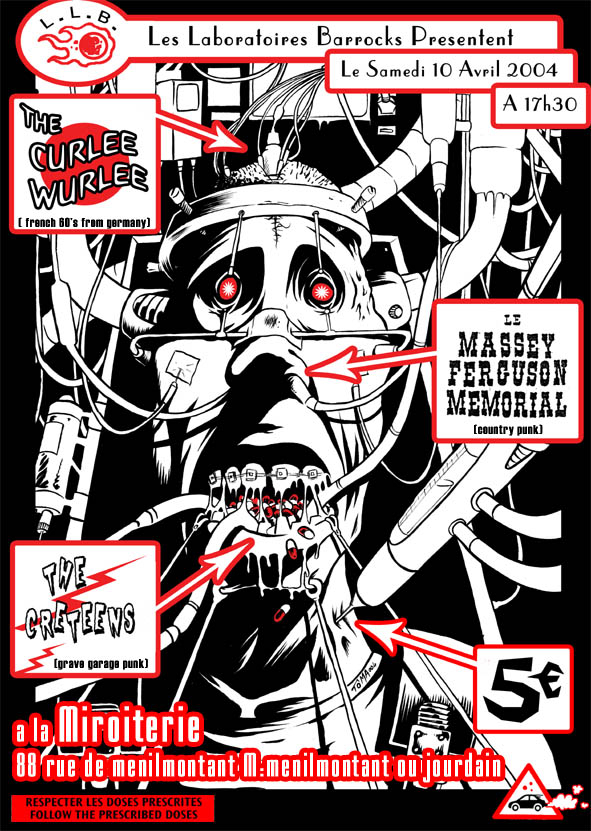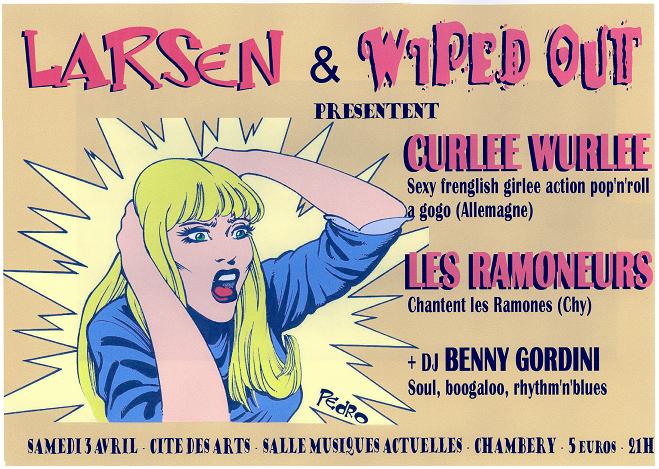 And the tour plan:

April 3rd Salle de Musiques Actuelles, Cité des Arts, Chambéry: Curlee Wurlee! + Les Ramoneurs

April 4th Curlee Wurlee! records four new smashing hits at the famous LARSEN STUDIO in Chambéry!!!

April 5th Staccato, Nice: Curlee Wurlee! + Electric Mormonds

April 6th Subsonic, Montpellier: Curlee Wurlee! + les Sweetie Bananas

April 7th Session in Montpellier with The Booboos

April 8th La Machine à Coudre, Marseille: Curlee Wurlee! + Pena

April 9th El Mediator, Perpignan: Curlee Wurlee!

April 10th La Miroiterie, Paris XX: The Massey Ferguson Memorial + The Creteens + Curlee Wurlee!

April 11th House of Live, Paris VIII: Curlee Wurlee!

April 12th Back to Germany...
Come back soon!
Back to the PICTURES MENU


You're at www.curleewurlee.com