</P>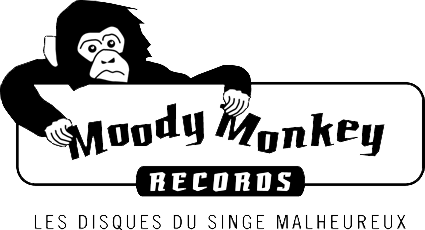 present...

"CURLEE WURLEE LIKES MILK"
Amazing new album out on Friday, 8th July 2011!!!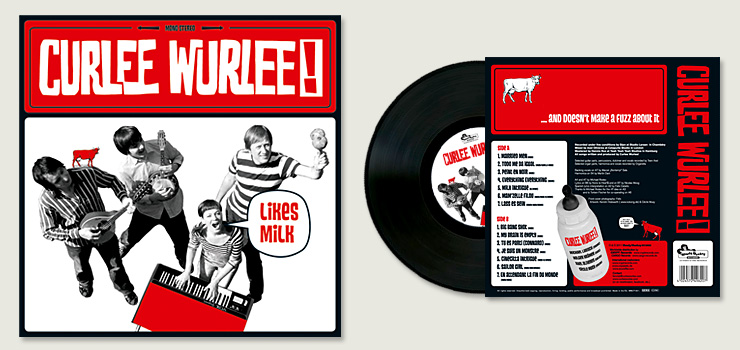 CURLEE WURLEE! likes milk (and doesn't make a fuzz about it)

Another fabulous, long-awaited release by this French/German/English band, already well-established in the 60s garage and punkrock scene. Once again, they wrote all their songs in a spontaneous and eclectic way: starting from fuzz garage punk ("peint en noir", "big bang shot", "en attendant la fin du monde"), exotic beat (hit single "married men" on Butterfly Records) and moody tunes ("everything"), even moving to top moody tunes ("tu es parti" could be a song by The Zombies, and "my brain is empty", in the good ol' Kinks story-telling tradition), cynical French pop ("Mam'zelle Filou") and surf ("sailor girl"), and finally ending up with two instrumentals which may make you believe you're watching the latest Tarantino. This time, this album has nothing to do with legendary Curlee Wurlee!'s wild and pure garage live shows. Although these 14 original tracks have been among others kind of thrown together within two days, the production is much more mature than in their previous releases, nevertheless featuring their typical signature: intricate harmonical surprises and a lot of energy, backed by Germany's best beat drummer (also drumming with the Hara-Kee-Rees), a decided bass, a minimalist guitar as well as their notorious VOX organ, their trademark. And this time, Organella does not only sing in Frenglish, but even jazzes it all up with Spanish ("todo me da igual") and German ("lass das sein" feat. vocals by Marcel Bontempi of The Montesas). Another novelty: dulcimer ("Cinecitta intrigue"), harmonica and... dinosaur grunts ("je suis un monstre"). This album is NOT a typical garage record, it is extremely personal and if you ask me, it is a MUST HAVE! First pressing comes out with a 350g laminated cover, inner sleeve and postcard.

A must have!

- Emma -

Label: MOODY MONKEY Records
Ref.: MMLP-001
Artist: CURLEE WURLEE!
Album title: curlee wurlee likes milk
Recording medium: Vinyl LP
Date of release: 08.07.2011
LC 2740
Distribution:
CRYPT RECORDS
CARGO RECORDS
MOODY MONKEY Records
Adorable label based in beat city Hamburg, with an obvious penchant for guitar combos featuring an organ, moody garage punk with sick harmonies, and also neo-beat (no cover bands!). Also and under certain circumstances power pop punk, lo-fi garage weirdo stuff, surf, and in general, everything subject to make them move our bum and/or boil their brain.
First release on 8th July, 2011 with the exciting, long-awaited third longplayer of Curlee Wurlee!
MAILORDERS
CRYPT RECORDS (D/in English)
Moody Monkey Records (D/in English)
Copasetic (D/in English)
Soundflat Mailorder (D/in English or German)
Munsterama (E/in English or Castellano)
Get Hip (USA/in English)
Sugar and Spice (F/in French)
Butterfly Records (E/in English)
Fuzz Overdose (GR/in English)
Flight 13 (D/in English or German)
Rhythm Online (GB/in English)
Crazy Love Records (D/in English or German)
Moskito Mailorder (D/in English or German)
Green Hell (D/in German)
Shiny Beast or Clear Spot (NL/in English)
Larsen (F/in French and English)
Detour Records (GB/in English)
Amazon, WOM, Libri & co. (burp...)
and probably some more.
Also available on all download platforms such as iTunes
Track-list:
Side A
1. Married Men
2. Todo me da igual
3. Peint en noir
4. Everything Everything
5. Milk intrigue
6. Mam'zelle Filou
7. Lass das sein
Side B
1. Big Bang Shot
2. My brain is empty
3. Tu es parti (connard)
4. Je suis un monstre
5. Cinecitta intrigue
6. Sailor Girl
7. En attendant la fin du monde
CURLEE WURLEE! likes milk (and doesn't make a fuzz about it)
Endlich ist sie da, die lang erwartete und umwerfende neue Veröffentlichung dieser französisch-deutsch-englischen Band, die in der 60s Garage- und Punkrock-Szene schon lange ein fester Begriff ist. Erneut wurden alle Songs auf eine spontane und eklektische Art und Weise geschrieben: beginnend mit fuzzigem Garage Punk, exotischem Beat und moody Tunes, die sich in top-moody Tunes entwickeln, zwischendurch mit zynischem French-Pop flirtend, mit Surf, finden sich sogar zwei Instrumentals darauf, die einem das Gefühl geben, sich den neuesten Tarantino anzugucken! Dieses Album hat diesmal nichts mit den berüchtigten wilden Garage live Shows Curlee Wurlee!s zu tun. Obwohl diese 14 Eigenkompositionen neben andere innerhalb von nur zwei Tagen eingespielt wurden, ist die Produktion viel reifer als auf den vorigen Alben, beinhaltet aber dennoch Curlee Wurlee!s typische Handschrift: überraschende, verzwickte Harmonien und wahre Energie, unterstützt von Deutschlands bestem Beat-Schlagzeuger (der auch mit den Hara-Kee-Rees unterwegs ist), einem entschlossenen Bass, einer minimalistischen Gitarre sowie der unverwechselbaren VOX-Orgel Curlee Wurlee!s. Und diesmal singt Organella nicht nur auf "Frenglish", sondern peppt das ganze mit Songs auf Spanisch und sogar Deutsch (zweistimmig mit Marcel Bontempi von The Montesas) auf, naturgemäß untermalt von ihrem charmanten französischen Akzent. Eine andere Innovation: Dulcimer, Mundharmonika und... Dinosaurierrufe. Dieses Album entspricht NICHT dem, was von einer typischen Garage-Schallplatte erwartet wird; es ist extrem persönlich und wenn Ihr mich fragt, es ist ein wahrer KAUFTIPP! Die erste Auflage kommt mit 350g laminiertem Cover, Text-Einleger und Postkarte heraus.
CURLEE WURLEE! likes milk (and doesn't make a fuzz about it)
Il est enfin arrivé : le nouvel album tant attendu de notre groupe anglo-franco-allemand préféré, depuis longtemps inévitable dans la scène garage européenne. Nous sommes habitués à des albums extrêmement éclectiques, et celui-ci dépasse encore les précédents : partant du hit single "Married Men", un superbe exotic beat, en passant par l'obligatoire fuzzy garage punk, des morceaux top moody qui pourraient sortir d'un bootleg des Zombies ou des Kinks, ils flirtent avec le surf et nous offrent deux instrumentaux qui pourraient bien figurer sur le tout dernier Tarantino. Seulement cette fois, cet album se distingue nettement des concerts sauvages de Curlee Wurlee!. Bien que ces 14 titres originaux ont été parmi d'autres enregistrés en seulement deux jours, la production est nettement plus mûre que précédemment, nous offrant cependant leur signature reconnaissable entre mille : d'étonnantes harmonies et une indéniable énergie, soutenue par le meilleur batteur de beat allemand (qui se partage aussi la tache avec les Hara-Kee-Rees), une basse décidée, une guitare minimaliste et bien évidemment leur orgue Vox Super Continental, trait distinctif du groupe. Cette fois, Organella chante non seulement en anglais et en français, mais nous surprend de nouveau avec un titre en espagnol et un autre en allemand, accompagnée au chant par Marcel Bontempi des non moins notoires Montesas. Une autre innovation : un dulcimer, de l'harmonica ainsi que... des hurlements de dinosaures. Cet album n'est PAS un album garage parmi d'autres. Il est sincèrement personnel et si vous me posez la question : il doit figurer dans toute bonne collection de disques qui se respecte. Le premier pressage sort avec une pochette de 350 g laminée, un feuillet intérieur et carte postale.
PREVIOUS album: OUI OUI... (Soundflat Records)