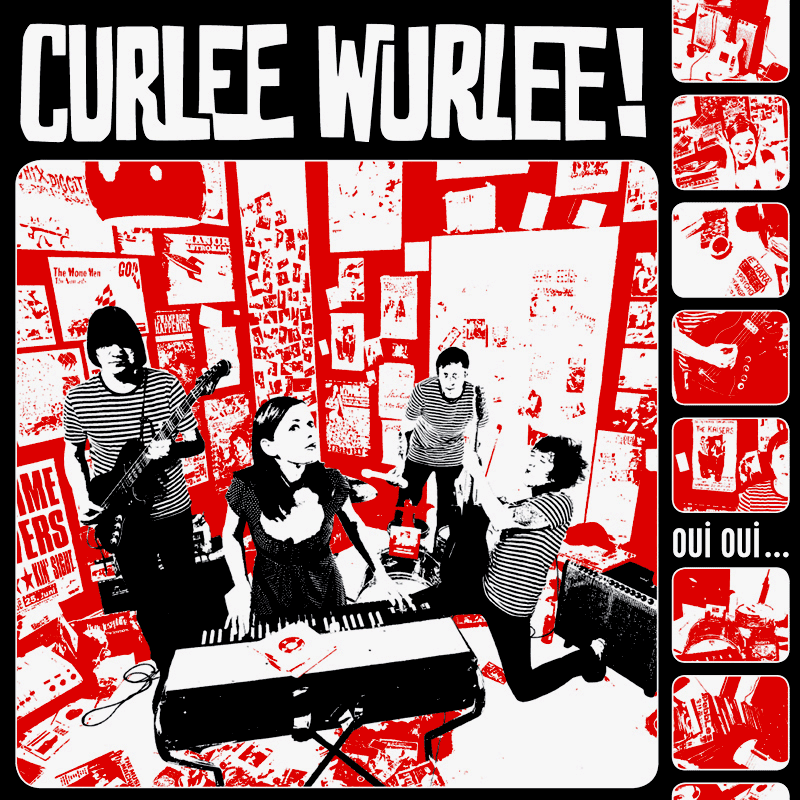 Curlee Wurlee! – "Oui Oui…" LP (SFR-011)
VINYL OUT ON OCT 20TH, 2006 / CD OUT IN APRIL 2007!
ORDER NOW from SOUNDFLAT
Not every band gets liner-notes written by Bruce Brand (Holly Golightly, Masonics, Headcoats, Hipbone Slim - just to name few), but Curlee Wurlee! does on their new album "Oui Oui…"!!!
Curlee Wurlee! (D/F) gained its reputation today after touring throughout Europe and gathering releases on different labels world-wide in the last few years, Curlee Wurlee! are back with an impressive 17 track long-player on SOUNDFLAT RECORDS.  The album "Oui Oui…" proves how much they've developed and fine-tuned their organ based hallmark sound since their foundation in 1999, somewhere between Paris, Dusseldorf, Solingen and Cologne.  Curlee Wurlee! like to enjoy their youth and they do indeed have a secret:
"Curlee Wurlee! sticks to your ears, not to your teeth!"
Curlee Wurlee! have always played a mix of 60s oriented organ beat, surf and garage punk, with mostly original compositions in Frenglish. This time, Curlee Wurlee! offers the discerning music aficionado even more enjoyment, even more swirling dance beats and even more femcentric vocals.  WOW!
About the long awaited NEW Album

!:
"Oui Oui…" features a total of 17 smashing hits consisting of 16 originals including a power pop tribute to Rosa Luxemburg, and 1 reworked cover song of The Kaisers. This album is extremely personal, and just listen to its dynamism! The average length is around 2 minutes, sometimes more, often less... The new line-up which congregates around the so-called "Organ Goddess from France", Cécile, has obviously more power than ever. Each of the band's members have solid musical resumes, and man, can you hear it! The new eclectic album contains it all, beat, soul, 60s influenced garage punk punched out in that mature though juvenile style that is Curlee Wurlee!
Produced by Martin Tombone (Hara-Kee-Rees, ex-King Khan), this album's gonna make you dance, cry, sigh and die. It's all about living fast, being desperate, extreme and uncompromising, it's about enjoyment, but also love, pain and passion! It's all about you, girls'n'boys and party dudes! Now you've gotta move your feet to the Frenglish beat of Curlee Wurlee!
Due to be released on SOUNDFLAT RECORDS in October 2006 (CD version out in April 2007), "Oui Oui…" comes out with a smart inlay which reveals everything about the making of the songs, the way the girl and the three boys compose them, and the lyrics.
                                                                                              -Joey Backseat, September 2006-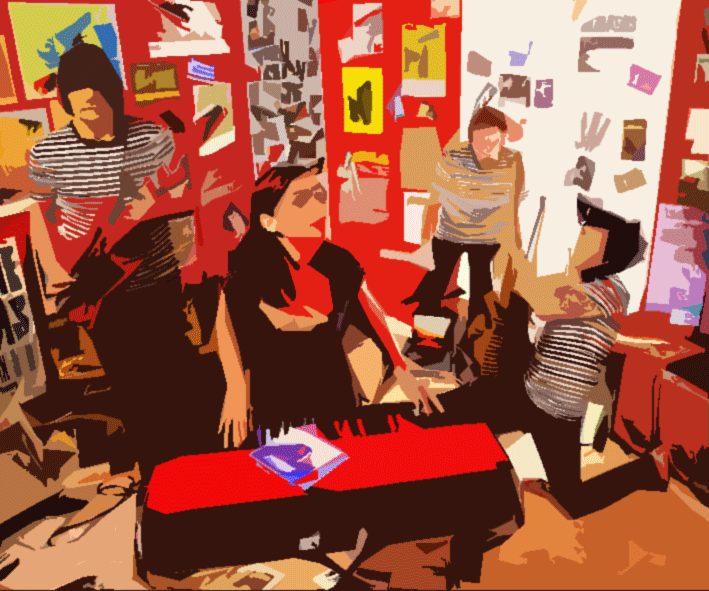 1. Make you cry
2. You're a fake
3. Can't make you mine
4. La Languedocienne
5. Riot
6. Lutin au LSD
7. She's so square
8. (In the hands of the) black guards
9. Je vais dérailler
1. PATSAS (Patsas)
2. He won't come back
3. Twenty seconds
4. Raining in my heart
5. Il, tu, je
6. Shérif, Smith & Wesson
7. My boyfriend is a fireman
8. Sorrow
Available in all cool and crazy record shops worldwide! Just go to your favourite record dealer; you'll make this guy happy!