Michael Larisch
a.k.a.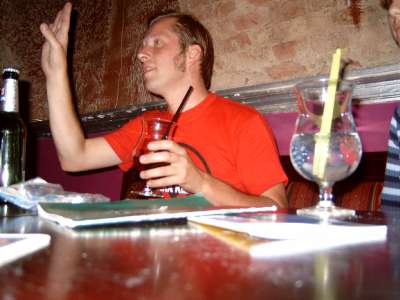 Drums, backing vocals and Montitudes
That's MEATBIKE!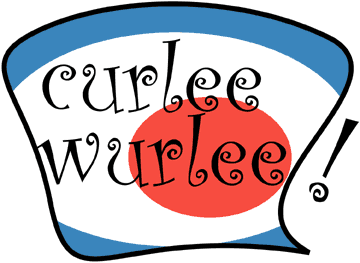 Beat Mike was born on a March 29th. His parents called him Michael because they knew there would be another Michael in each band he'd play with, so he'd never feel alone. Although we believe he'd have never felt alone anyway because similar to Fruitee Wurlee, Michael Rodeo and DJ Geri, we presume he's got a little monkey too. And a secret. Of course. Who doesn't actually? Beat Mike started in Curlee Wurlee! right after Geri in June 2004. Beat Mike used to play in plenty of other bands in the past and tour a little bit everywhere. We were told he was involved in some stories with some cool US bands but we don't ask him any questions about his wild past... Beat Mike is a fantastic drummer and now a Wurlee. He's also playing in his two other absolutely amazing bands The Hara-Kee-Rees and The Astronauts! Like Michael Rodeo, Beat Mike is a student. Like DJ Geri, Beat Mike is a top DJ. He knows every single beat band from the 60's who ever had one track released somewhere... Beat Mike's first gig with Curlee Wurlee! was on July 9th, 2004 in Stuttgart. Beat Mike is a very funny and heartful person; he's sometimes getting a little bit moody and that's a very interesting, odd and sweet thing to observe, ha ha ha aaaaaaarrggghhhhhh!!!!!!!!!! Ha ha! ... In other words: "for a drummer, he's quite ok". (...) And this one's unique!!! People like to call him Beat Mike, Mr. Ultra Moody or simply Michael. Long live Mr. Ultra Moody!

more soon...

Michael's favourite current bands are: this section will be completed soon

His favourite bands of the last decades are: this section will be completed soon
Releases with:
CURLEE WURLEE! - Agents of the Ape - 3-tracks EP (copaseDisques, 2016 / D)
- Birds and Bees – 14-tracks LP (Moody Monkey Records, 2016 / D)
- Married Men – 3-tracks EP (Butterfly Records, 2013 / E)
- My brain is empty - 7" (Larsen, 2012 / F)
- Curlee Wurlee Likes Milk – 14-tracks LP (Moody Monkey Records, 2011 / D)
- Oui Oui – 17-tracks LP (Soundflat Records, 2006 / D)
- Split w/Die Tornados – 4-tracks Split EP (copaseDisques, 2005 / D)
For more, check out the Discography in the menu on your left.


Releases with his other bands:
HARA-KEE-REES

Explode (LP/CD, Sounds of Subterrania, SOS 040/041 - 06/2003)

My Girlfriend's Mum (EP)

2 (LP/CD)
ASTRONAUTS
7", EPs

Rocket to Mars (EP, Short Down Rec. / Shot 1 / 1994)

Rocket to Mars (EP, Re-release on Pin-Up Label / 94017 - 1994)

War of The Satellites (EP, Shot Down Rec. / Shot 3 - 1995)

Go, Go... America!!! (Limited Tour Release for US Tour 1995, 300 copies / Shot Down / Shot 1 - 1995)

Big Sound of... (EP, Tribute to Johnny & The Hurricanes / Pin UP / 95025 - 1995)

Wassamatta U (EP, Repent Rec. 4505 - USA 1995)
LP, 10"

Lost in Space (10", Pin Up Rec., 94018 - 1994)

War of the Saucermen (Split 10" w/Satelliters, Pin Up Rec. / 94024 - 1995)

Fire Down Below (12", Pin Up Rec., 96044 - 1996)
V.A.: 7", 10", LP

Battle of the Sportsmen (7" EP, Shot Down Rec. / Shot 6, 1 track - 1995)

Hot Rods to Hell (10"Blood Red Vinyl Rec., 1 track - USA 1995)

Locked in to Surf (Vol 1 / Vol 2 / Vol 3, one track each, Alopecia Rec. - UK 1994-1996)

Surfin' around the World (3 tracks, Pin Up / 95027 - 1995)
Releases with his some of his previous bands:
LOS CACAHUETES

Wild Women (7", Shot Down Rec., Shot 8 - 1996)

Fashion / Eltren (Split EP w/Los Kenny Harpers, Electro Harmonix / DLM 1996-78, ref. DOS - Spain 1997)

17 1/2 is still Jail Bait (V.A., LP, Demolition Derby Rec. / Nitro 007 - Belgium 1997)
THE CUCKOOS

Tribute to the Monks (V.A., EP, Electro Harmonix / EH009 - Spain 2002)
Last Update: 2016
Go to BACK
For more PICTURES, click here



You're at www.curleewurlee.com